I have fished on many rivers and waters around the United States, but not nearly as many as I want to. I have fished countless rivers, lakes, and streams, here in Texas, as well as many of our Saltwater spots. I have fished in Georgia, Iowa, and Virginia, as well...but nothing else, and I have never fished outside of the United States.
So, I decided I was going to make a fishing bucket list, but that list would be way too long. From there I decided I would just make two fishing bucket lists. Fish I want to catch here in America and the places I want to go to Kayak Fish.
These are not in any real order, but this is my Kayak Fishing Destination Bucket List:
Pecos River - Southwest Texas
This is the closest destination on my list. I have fished parts of the Pecos River that flow into Lake Amistad here in Southwest Texas before, but I have never taken a kayak fishing trip down the river. I have done the Devil's River, which is breathtaking in its own right and has great fishing, but the Pecos is next on my list.
An Oasis that flows through the deserts of New Mexico and West Texas, the Pecos River is one of the most remote stretches of water in the United States. From fly fishing for native Rio Grande Cuthroats in the upper stretches of the river, to good largemouth bass fishing, and an early Spring white bass run in Texas, the Pecos River also offers good fishing to go along with beauty and seclusion. I can't wait to fish it!
Pecos River High Bridge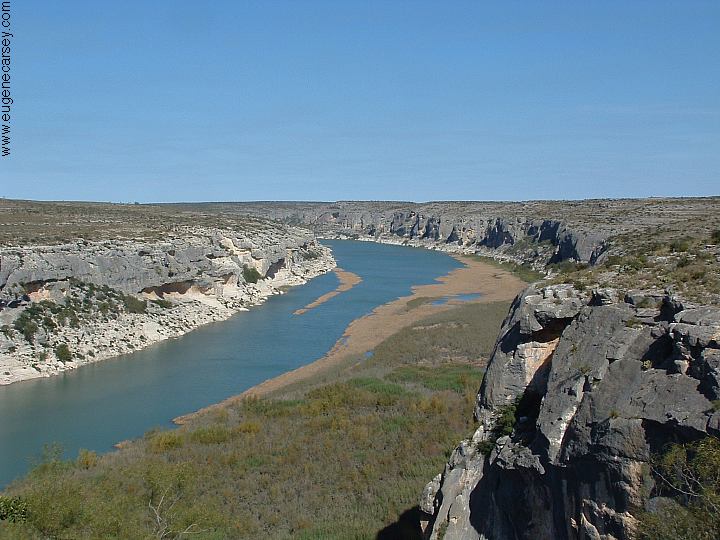 Blackfoot - Montana
Yes I realize it is corny, and everyone and their dog wants to fish it now, but I still feel a strong desire to go. I am sure the river will be crowded, poluted, and overfished, but what the heck. If you read my blog much at all, you will know I love to read the book
A River Runs Through It.
I guess the Blackfoot is kinda like the Fenway Park of Fly Fishing. So it is on my list!
Florida Everglades
With crazy cool flora and fauna unlike anywhere else I know, the Everglades are somewhere I have always wanted to fish. Thousands of species of fish including some of the best largemouth bass fishing around, the 'glades are somewhere that has to be on my list. From big cypress trees surrounded by freshwater fishing down to the mangrove trees and some saltwater action. The Everglades have just about everything.
Boundary Waters - Minnesota/Canada Border
Remoteness and great fishing. You can catch smallmouth bass, northern pike, lake trout, and walleye. Apparently there are 1,200 miles of paddling trails you can take, so you can literally paddle, camp, and fish, for as long as you want without hitting the same water twice. Crazy!
Now to go Outside of the United States:
Dead Tree Valley - Chile
Four rivers lead different paths through Dead Tree Valley on Chiloe Island in Chile. I could have picked the Patagonia region of Chile, however the waters there are full of non-native "United States Trout," and that's not my thing. I am not sure what fish are native to Dead Tree Valley, but I am sure they are there and I want to catch them. It would be a little bit eerie kayaking alongside all these dead trees, huh?
Mekong River - Cambodia
With the famous Giant Mekong Catfish and huge Freshwater Rays, there are plenty of enormous fish in this stretch of the Mekong River. But that is not all that is there, there are also snakehead and barb just to name a couple. Plus, Cambodian culture is centered around fishing, yet the rivers have not been as over-fished as in other places, leaving great fishing for numerous species in a unique jungle environment.
Rio Negro - Amazon Basin - Brazil
Home of the always exciting Peacock Bass, I have wanted to go here for as long as I can remember. Beyond Peacock Bass, you can catch Redtailed Catfish (and countless other catfish species), Piranha, and stingray, to give you something new to fish for all the time. You can also see the pink river dolphins while fishing through dense tropical forest. I can't wait to go.
Somewhere Remote in Mongolia
Pictures of Mongolia remind me a little bit of Montana, except more remote and spectacular. I have done research on fishing in Mongolia, since it has been a dream for a while and might be the first place I would go if given the oportunity, but have yet to figure out what body of water would be best to fit my needs. Maybe they all would, I don't know. Mongolia offers beautiful landscapes and amazing fish, including the Taimen and Lenok. One day...one day.
There are numerous other locations I would love to kayak fish, but those are probably the top 8 that are on my Kayak Fishing Destinations Bucket List right now. Any suggestions on other places I should add? Where do you want to go?